House-Building and Special Programs
Construction and Renovation
Since 2010, we have arranged construction projects for foreign volunteers, and the program is sponsored solely by the incoming team. Whenever we are contacted for this purpose, we give suggestions as to where a construction project is needed – be it in schools, communities, or areas with families in need. Rise Above arranges accommodation and transportation, purchases materials with an already agreed on budget, and works alongside the volunteer team in making the project a success.
The most recent one was in February 2020 where one of our partner organizations for more than a decade, Developing World Connections, Canada, partnered with Lenovo and Softchoice, USA, to repair and paint the school and cement the 450-square meter community ground and school yard at the Nano Nagele Childcare and Learning Center in Alaska Mambaling, Cebu City. What a difference it makes when people work together!
INQUIRE here.
Disaster Relief and House Building Project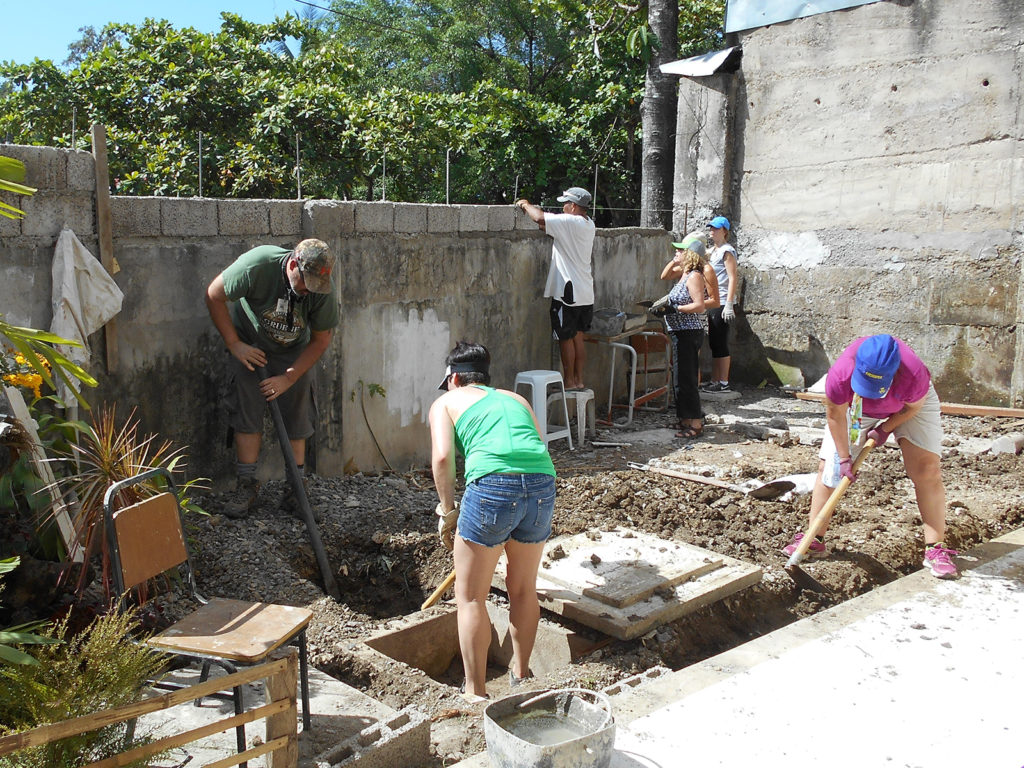 Typhoon Haiyan (Yolanda) caused terrible destruction in the Philippines. One can never prepare for such a disaster which happened in November 2013. Due to this super-typhoon, daily news updates were broadcasted worldwide on how thousands died in the province of Tacloban and over 100,000 people were starving, having lost all their belongings and livelihood. On the island of Cebu, the impact of the typhoon was greatest up North and though we do not have direct communication with the residents there, we knew we needed to help our fellow Cebuanos in whatever way we could. E-mails were sent out to hundreds of friends explaining that we are here, we see the need, and we want to help.
With an outpour of positive responses, our team in Cebu City got busy shopping for food and materials to help relieve hunger and get people a "roof over their heads." A team of foreign students on their internship in Cebu had also taken initiative and collected money from family and friends. We assisted them with shopping, provided a place for them to pack relief goods into portions, and helped load them in a large truck which they themselves embarked to personally deliver the goods to those in need. Through the following weeks, a friend of ours, Sally Kelly of Sea Turtle Lagoon Resort in Tabogon, welcomed teams of volunteers and guided them to the most in need. Together with our friends, we brought 25 tons of food and aid, which we distributed to suffering families. Everywhere, houses were destroyed, and families had lost everything they owned. But the people in Camoboan, Tabogon, North Cebu were happy to be alive. Through 2014, as we received funds and donations from companies and individuals, 105 simple houses were built, the main building at Camoboan Elementary School had to be demolished and re-built, as was their stage and toilet building. Additionally, a school was built in Medellin, the northernmost part of the Cebu island, through our partnership with Developing World Connections and Fluent.
With the regular tropical storms during the rainy season in the Philippines and the thousands of weather-vulnerable makeshift houses dwelt in by people in poverty, the need is still great. When disaster strikes, we are ready and able to facilitate aid in Cebu. But we can only do so much, and we also need you. With a donation of 2000 US$, you can already provide a family in need with a simple safe house they can call their home, where children can stay dry and cozy and families can experience a feeling of self-respect and hope for a better future.
DONATE here.