Through their Corporate Social Responsibility (CSR), our partners are making a difference with us in Cebu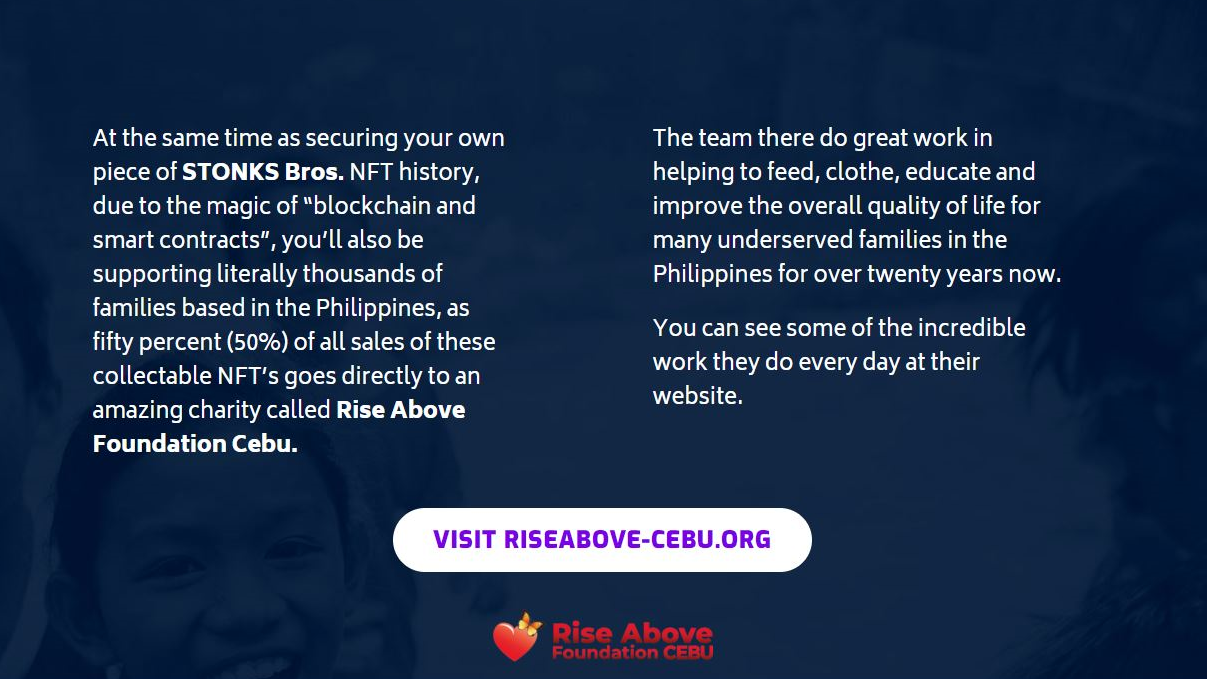 The STONKS Bros are uniting the crypto world through their new global anthem, "We Choose To Go To The Moon" while also helping to raise funds for  Rise Above Foundation Cebu, Inc. via the sale of their Limited Edition STONKS Bros collectible NFT's. Fifty percent (50%) of all sales of these collectable NFT's goes directly to our foundation to support thousands of families based in Cebu, Philippines.
We're on the verge of a new digital world and the STONKS Bros aim to raise mass awareness of the benefits of using blockchain technologies for "we the people."
STONKS Bros – Crypto tribalism is cool, but crypto UNITY is better!
TAKE PART by clicking the links below.
We want to extend our heartfelt thank you to the members of Roskilde Rotary Club. We were contacted by them several years ago as they wanted to support a good cause, and we shared with them the need for College Education for Junevieve Pales, who at 13 years of age lost her leg due to bone cancer. Rise Above arranged sponsorship for her to receive a prosthetic leg. Being able to walk again, she wanted to pursue her education, and Roskilde Rotary Club graciously made the decision to sponsor her College Education for 4 years. Junevieve has been a good student and graduated in August 2020. She is eternally grateful to Roskilde Rotary Club for giving her a chance of a better life.
SNI has sponsored our efforts in Cebu several times for which we are very grateful. We needed a new vehicle for the Foundation in 2016, and they shared the cost with Medarbejdernes Honorarfond I Novogruppen, Denmark. The Mitsubishi L300 is just right for our work as it serves both as a passenger vehicle and for transporting goods, be it for Dental Mission, construction work, supplying the schools with toothpastes and toothbrushes (photo) or taking the kids to the park.
In 2017 and 2018, SNI sponsored medicines and materials for the July Dental Mission, making it possible for us to give free treatment to over 2000 children in poor elementary schools.
In 2019, SNI sponsored the renovation of the annex to the Rise Above Community Center. Termites had attacked all the woodwork, so the building had to be torn down and was re-built in materials resistant to termites' attacks.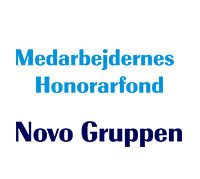 Medarbejdernes Honorarfond I Novo Gruppen
This Fond has done incredibly much for the Rise Above Foundation. Through the years they have supported several mobile dental units, to where we now are able to have large teams of 15-20 dentists working simultaneously at our dental missions. They have sponsored medicines and materials, helped sponsor a new van, the building of the Rise Above Community Center and cementing the courtyard. They gave a large donation so we could help build houses and make vegetable gardens for the victims of typhoon Yolanda in Tabogon, northern Cebu. They have supplied laptops for high school students who come to the Children's Library to do their research for their studies, and new chairs for the center. We are deeply touched and grateful for all the Medarbejdernes Honorarfond I Novogruppen has done to help us help the underprivileged and less fortunate people we serve here in Cebu City.

Developing World Connections
They have partnered with us for 10 years, sending volunteers both from Canada and USA. They have built several houses, school buildings, and the dorm at our Community Center. The most recent one was in February 2020 where they, through their partners Lenovo and Softchoice, brought over 25 laptops for the Nano Nagele Childcare and Learning Center, painted the school and cemented the 450-square meter community ground and school yard. Our partnership with them is ongoing.
Ramon Aboitiz Foundation Inc.
When it was time to build our own Community Center in 2011, we contacted RAFI for their help, and they donated 70 % of the cost of Building 1 which holds a dental clinic, a kitchen, bathrooms and the private room for the center leader. When we wanted to build the second building in 2014, they came through for us again and donated 70 % of the second building. In addition to that, they sponsored books for the Children's Library, tables and chairs, as well as the sound system, computer and printer. You have helped us make a big difference in Guadalupe through your generous donation! Thank you very much!

We want to extend our heartfelt thank you to the members of Giving on Purpose, in great appreciation for their continuous support towards our projects in Cebu. Giving on Purpose is a vision-guided, values-driven charitable organization that supports programs and individuals and contributes to projects that enhance the quality of life for the poor or displaced through improving their physical welfare, health, and environment, or developing their emotional and spiritual welfare through coaching, counseling, and guidance services.
Confirmation of the combined flavonoids content can be obtained by HPLC analysis. Common side effects include constipation, memory loss, confusion, and and dizziness or blurred vision. Talk with your doctor about your individual risks before using esterified estrogens and methyltestosterone long-term https://www.lekarnabezpredpisu.com/. Spasticity is a movement disorder that can occur in conditions which affect the brain or the spinal cord, such as multiple sclerosis, stroke, cerebral palsy, spinal cord injury, or brain injury.