We at Rise Above Foundation Cebu (RAFC) collaborate with Ramon Aboitiz Foundation Inc. (RAFI) to continuously improve and elevate the quality of life of the people we serve, especially the underprivileged families in Cebu. 
This partnership can be traced back to 10 years ago when they sponsored 70% of the cost in constructing our Community Center buildings back in 2011 & 2014. On top of that, they sponsored books for the Children's Library and various equipment for the Rise Above Community Center. Fast forward today, that generous donation paved way for a higher impact on the majority of Rise Above's programs.
Due to the damage caused by Typhoon Rai (locally called Typhoon Odette), we worked together to make a difference.
As part of the disaster response, RAFI team relentlessly delivered supplies to the affected areas of Typhoon. A total of 242 relief packs and drinking water were turned over to RAFC in Guadalupe, Cebu. Each package contains 5 kilos of rice, 5 packs of noodles, 8 packs of coffee, 3 cans of sardines, 3 cans of corned beef, and 6 Liters of drinking water.
Donations were divided to the poor families where our two centers, Community & Family Care Centers, are located. The RAFC missionaries, Abi, Elisabet, and Adi, led the selection of beneficiaries and distribution of relief packs to the family representatives which were mostly the mothers.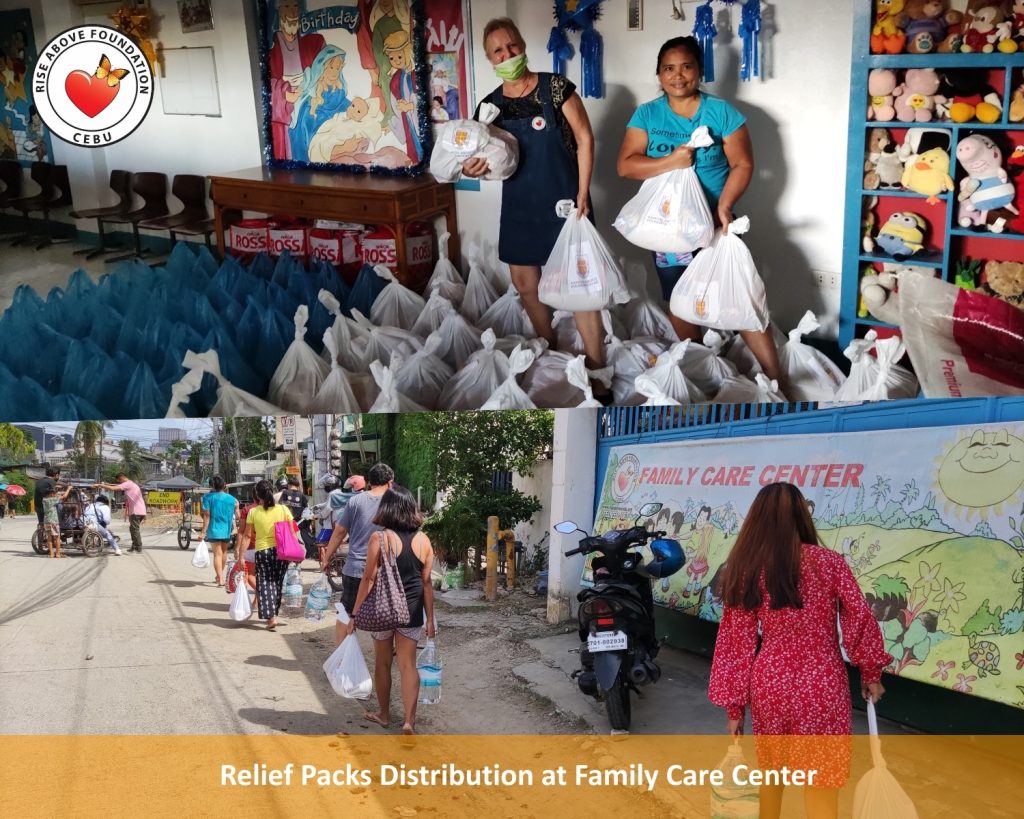 Although majority of the residents in Sambag Dos, Guadalupe, Cebu were hit since houses were built using light materials, the beneficiaries prioritized were the needy families whose homes were badly damaged due by the Typhoon.
The distribution of goods was showered with smiles, gratitude and happiness. The relief packs not only brought food to the affected families but also a bundle of hope. Indeed, no storm can shake the power of generosity and charity among people.
Special thanks to RAFI for their continuous support and trust so we can deliver a wider impact to the most deserving people on the ground. In fact, for 2021, they selected us in various gift-giving especially to the neediest children in the community.
RAFC Team is encouraged in these collaborative initiatives and we hope to continue to work together with credible organizations such as RAFI. Through this, we can continue to touch more lives and together make a positive difference.
Rise Above always appreciates donations in kind such as sacks of rice, canned goods, clothes, shoes, toys, and school materials.
Please contact us through:
E-mail: riseabove@riseabove-cebu.org
Landline: +63 32 255 1063
Mobile: +63 927 222 2262
Facebook: Rise Above Foundation Cebu
To know more about the different projects of Rise Above Foundation Cebu, Inc., you can visit our website through this link: https://riseabove-cebu.org/projects/
Together we can make a difference!